Hanoi Premium Travel

- TOUCHING PEOPLE'S HEARTS

⛩️ Hanoi Premium Travel is a Full Service Destination Management Company and Trustworthy Tour Operator in Vietnam. Hanoi Premium Travel is Your local & Reliable Business Partner in Vietnam. We specialize in:
💛 MICE Travel & Tours.
💛 Meetings, Incentive Trips & Team Building.
💛 Luxury Holiday Packages to Vietnam, with day tours, multi day tours.
💛 Custom Tours to suit your style of travel.
💛 Gap Year and Charity Activities in Vietnam.
🍁 With over 15 years working in the Travel Business and MICE Sector. We pride ourselves on providing Excellent Customer Service at great price. Our Experts Team will work with you to create your own trip of a Lifetime. We want you to experience the abundance of culture and diverse landscape of Epic Vietnam in the best possible way.
🍁 At Hanoi Premium Travel, we care more about travel quality than quantities, sensitive in travel services than price. We care about the quality of accommodation, transportation, scenic sports, entertainment, delicious foods, restaurants and shopping. We make sure your adventure is not only exciting but safe, and we use bilingual guides with extensive local knowledge so you get the best insights into the places we visit.
🍁 Hanoi Premium Travel is proudly a fully Vietnamese Licensed Travel Company working strictly under Vietnamese Business Law (Issued by the Vietnam National Assembly/ 2018) and Vietnamese Law on Tourism (effective from 2019).
🍁 Hanoi Premium Travel is an International Travel Company licensed directly by the Ministry of Culture, Sports and Tourism and Vietnam National Administration of Tourism to host and organize MICE TRAVEL & TOURS, THEME TOURS And HOLIDAY PACKAGES for international tourists' and delegations to VIET NAM.
WHY CHOOSE

HANOI PREMIUM TRAVEL
High Quality Products.

High Quality Customer Experiences.

Excellent Customer Service & Good Value for Money.

Top insider Knowledge for all the best things to do in Vietnam.

You have a friend on the ground 24/7 to assist if needed.

Private Travel Consultant, Tour Guides and Drivers.

Personalized, Hassle- free and Truly Unforgettable.

One Stop Service and Support from Travel Experts.
About

Hanoi Premium Travel People

We are a group of many Outstanding Units around Vietnam, including Professional Tour Operators, Guides and Local Suppliers who have many years experience working in the Travel Business. We are licensed by the Ministry of Culture, Sports and Tourism as International Tour Operators and Guides.
We are very honest, well organized, hard working and flexible, and love and enjoy working with people. Being Vietnamese, we love our countries history and culture and want to share our first-hand knowledge and experience with you. We have always focused on showing travellers the Real Vietnam by not only visiting the main tourist attractions but giving them the opportunity to see places off the beaten track providing a more authentic feel of the country.
Our Goal is to provide an Outstanding Customer Service for our clients.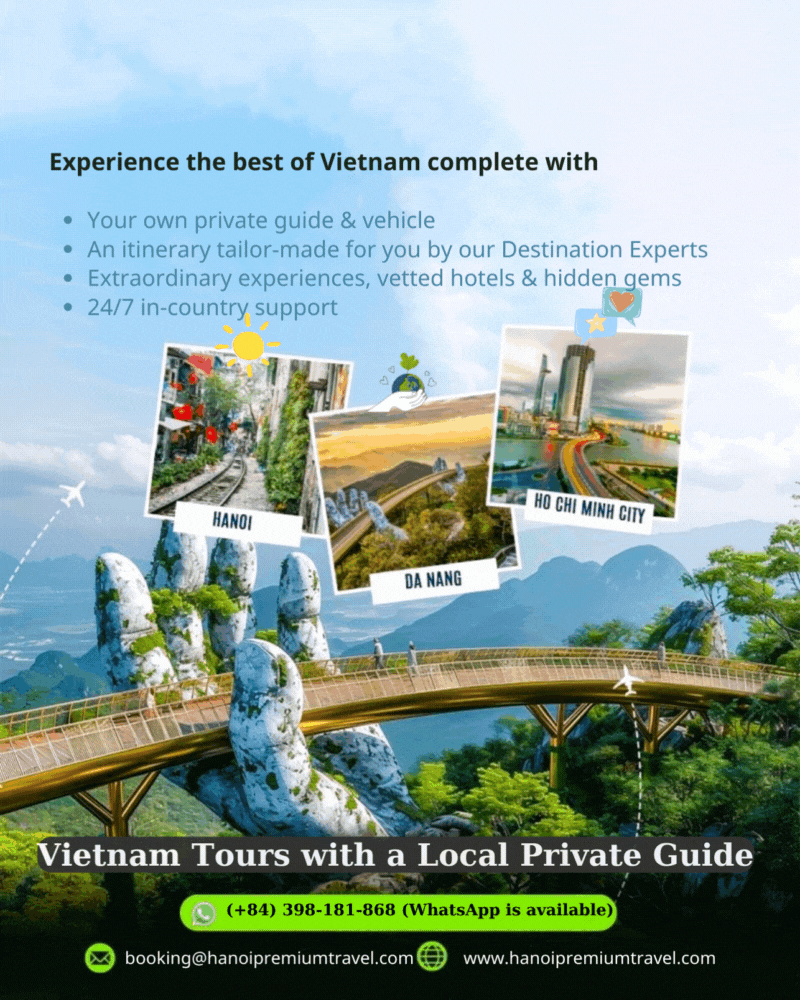 OUTSTANDING PACKAGE TOURS
Liên hệ với chúng tôi
*Chúng tôi sẽ liên lạc lại với bạn trong thời gian sớm nhất. Xin cảm ơn!
Agent Testimonials

with

Best Customer Service

Overall, great experience, professionalism and excellent service. We would definitely recommend Hanoi Premium Travel for tour services and hope to travel again with Hanoi Premium Travel soon

Sally Pinkas Pianist and Team
We'd like to say thank you very much for your perfect service! Our trip was very good organized; every single part was excellent prepared! Congratulations to your agency. We can recommend your services for everybody!

President Doo Han PARK and Team
The service on the trip was excellent. We had a wonderful and stress free experience. We will meet you again when our team comes back Vietnam next year. We wish you good luck and success with many happy tourists!

Professor and Chairman YURI PERSIDSKY